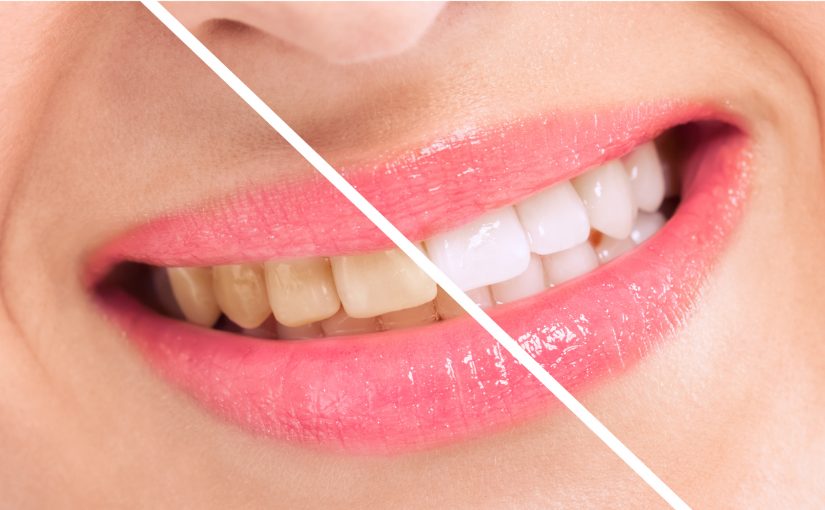 Although the natural color of teeth is not the bright white we often envy, there are still steps we can take to help prevent further tooth whitening loss. As people age, teeth can darken as enamel cracks and erodes absorbing color from the foods and drinks we consume. Plaque and tartar buildup can also create a prime surface for tooth stains. Maintaining healthy white teeth can be done by way of several simple everyday tips as well as with professional teeth whitening.
Foutz Family Dentistry understands the impact a bright and beautiful smile can make on the self-esteem and confidence of a person. We offer several teeth whitening procedures to help you get the stunning smile you desire and also offer you several at home tips to help you maintain the whiteness of your teeth.
Preventing Tooth Stains
Tooth stains can be prevented through several home remedies in addition to professional dental procedures.
-Maintain Regular Dental Cleanings:
Professional dental cleanings and routine checkups are the best way for people of all ages to maintain both the health and appearance of their teeth. Dental cleanings are the most effective way to remove the plaque and tartar buildup that regular brushing and flossing often miss. Through dental cleanings you can be sure that your teeth are truly clean helping to prevent a surface enamel that stains can easily latch on to.
– Maintain Good Oral Hygiene Practices
Following consistent oral hygiene practices such as regular brushing and flossing can make a significant difference in preventing tooth whitening loss. Brushing your teeth at least twice a day, flossing daily, and using an antiseptic mouthwash consistently will work to kill the bacteria that leads to plaque and facilitates staining.
-Avoid Consumption Of Tooth Staining Beverages
Beverages such as coffee, tea, red wine, acidic juices, and dark sodas are known culprits for stained teeth. If you still choose to consume these drinks, you may consider using a straw to help limit the exposure to your teeth.
-Munch On Whitening Foods
Certain crunchy foods such as apples, celery and carrots can act as natural scrubbers to help remove stains. The effect may only be slight, but the acidic nature along with their rough flesh can aid in cleaning and even brightening teeth
-Brush After Consuming Tooth Staining Drinks Or Foods
By brushing your teeth or at a minimum rinsing your mouth out after you have consumed stain-causing drinks or foods, you can make a significant impact on preventing whitening loss.
-Treat Heartburn
The acid that result from heartburn, or acid reflux, can also cause damage to the color and enamel of your teeth. By treating heartburn, you not only help yourself feel better, but you also help to improve the condition of your teeth.
-Consider Professional Tooth Whitening
Tooth whitening procedures performed by a trusted dentist are designed to whiten teeth quickly, safely and comfortably. Through professional tooth whitening you can often achieve teeth that are up to five shades whiter.
At Foutz Family Dentistry we feature Opalescence Boost PF Tooth Whitening procedures. Under the supervision of Dr. Barton H. Foutz, the Opalescence Boost PF Whitening process will deliver proven results without causing damage to teeth or gums.
Foutz Family Dentistry offers whitening procedures that can be performed in-office or at-home, or even a combination of both options. For more information on one of the most popular cosmetic dental procedures offered, contact us today at (702) 792-5929.
Dr. Barton H. Foutz, DDS
2510 Wigwam Parkway Suite 100 Henderson, NV 89074
(702) 792-5929