Both systems reduce radiation levels as much as 90% compared to the old-style film system.
DenOptix® Digital X-Ray System – Intraoral
Dr. Foutz has replaced the film-based dental x-rays of yesteryear with the newest innovation in dentistry – digital radiography. The imaging "camera" is a hand-held sensor device that insures patient comfort and minimizes radiation levels. The resulting images which are viewed on a computer screen are diagnostically equivalent or superior to film-based images. And because the technology is digitally-based, the x-rays can be e-mailed to you or to your service provider.
Carestream® "Cone Beam" 3D and Panoramic X-Rays – Extraoral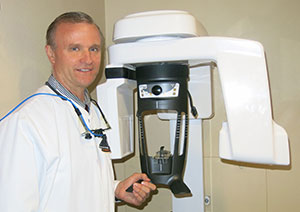 Dr. Foutz is among the first to add a 3D extraoral imaging system to his office. This unique "two-in-one" system (3D and panoramic) is well suited for complex diagnostic, restorative, surgical, and endodontic procedures.
The panoramic X-ray supplies information about the teeth, upper and lower jawbone, sinuses, and other hard and soft tissues of the head and neck. It can also identify some not so common problems, such as calcification within the carotid artery that may indicate the potential for a stroke.
One advantage of the panoramic X-ray is its ease of use. Unlike other X-rays where the film is placed inside the patient's mouth, the panoramic image is taken by a machine that moves around the patient's head.
The "Cone Beam" enables Dr. Foutz to perform a wider range of diagnoses and treatments in the office, helping reduce multiple visits, saving patients time and making the treatment more affordable.