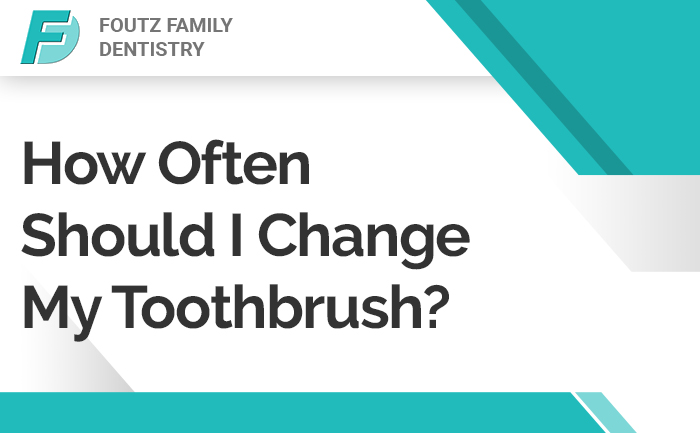 You want to keep your teeth and gums looking and feeling great and clean, so you brush several times a day using a good dentist-recommended toothpaste. You floss and use mouthwash, as well. However, if you aren't changing your toothbrush regularly, you might not be getting your teeth as clean as you might believe. Of course, many people aren't sure when they should change their toothbrushes or why it is so important to do it regularly. Let's look at what the experts say.
When Should I Change My Toothbrush?
It's recommended that you brush your teeth between meals and after sugary snacks to help keep your teeth in good shape. All of this brushing means that your toothbrush will start to wear down and will need to be replaced. The Centers for Disease Prevention and Control recommend that people change out their toothbrushes every three to four months. This is true for traditional toothbrushes, as well as electric toothbrush heads. Erring on the side of caution and opting for a replacement every three months tends to be a better idea. After all, you want to be sure that your teeth are getting as clean as possible.
Why Should You Change Your Toothbrush Regularly?
Of course, you don't have to wait this long to change your toothbrush. If you notice that there is a lot of wear and tear, or if other people in the family have been sick, it's a good idea to change the toothbrush. When they are in the bathroom, they could be coughing. Even though they might not be near the toothbrush, there is still the chance that it could cause you to get sick.
The bristles on your toothbrush start to wear down over time. When they are worn out, they will be more abrasive on your gums, which could lead to inflammation or even gum recession. Worn-out bristles tend not to be as effective, as well. If you want to keep your teeth clean and your gums healthy, get a new toothbrush sooner rather than later.
Also, bacteria and plaque can start to build up on the toothbrush. The longer you use the same toothbrush the more bacteria will start to take over your brush. It's better to simply adhere to the three-month rule and change out the toothbrush. They are not overly expensive, and you can often find some good deals online.
Signs You Need to Replace Your Toothbrush Early
If you notice the bristles are becoming frayed and wild, you will want to replace your toothbrush. However, there are plenty of other signs that it might be time to replace your toothbrush. For example, if you drop the toothbrush, you may want to replace it. Cleaning it is often enough if you keep your bathroom spotless, but you don't want to take the chance if you live with roommates.
Don't make the mistake of trying to boil or microwave the toothbrush to remove germs and bacteria. While it might help with those problems, it will also warp the bristles. The toothbrush will not be as effective at keeping your teeth clean.
Find a Good Dentist
In addition to brushing your teeth at least twice a day and changing out your toothbrush every three months or so, you also want to have a great dentist. Find a dentist that can provide you with the cleanings and other services you need. They can also provide you with some insight into some of the best types of brushes to get that will do a good job cleaning your teeth. Dr Foutz is happy to help his patients in all of the areas discussed in this article.
Dr. Barton H. Foutz, DDS
2510 Wigwam Parkway Suite 100 Henderson, NV 89074
(702) 792-5929