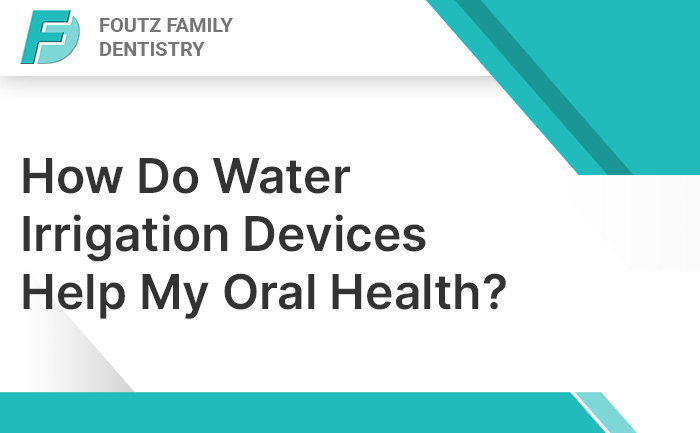 Dental treatments and options for taking care of your oral health have evolved a great deal over the years. One of the best new tools is a water flosser, or an oral irrigator. These are handheld devices that look similar to electric toothbrushes. They are meant to be used in addition to a toothbrush and regular flossing as a very effective way of removing bacteria, plaque, food particles, and gum-disease-causing elements.
Water flossers use—you guessed it—water to get all those pesky germs out of the crevices of your teeth and from beneath the gum line. They concentrate on the areas of your mouth that brushing just can't get to.
There are many types of water flossers, each with benefits that work well for different lifestyles.
Countertop water flossers – These can be a bit bulky and heavy, but they're easy to use in most bathrooms as they only need an electrical outlet. The irrigation tank gets filled with water and you refill it as needed.
Battery-operated water flossers – These are great for traveling or for those with limited counter space. They're slim and portable; however, they aren't as powerful as the countertop variety.
Shower flossers – These attach to your showerhead so you can floss in the shower! They're a bit more difficult to maneuver, and you'll need space in your shower to mount it, but they're great for people who would rather keep all the "mess" in one place.
Faucet flossers – These are similar to shower flossers but they use a cord that connects to the sink faucet instead of the shower head. They're also a bit more cumbersome.
Most types of water flossers, no matter the design, have different modes that make them easy on sensitive gums and effective for people who want more pressure. They're also easy to use for people with braces, bridges, and implants.
Water flossers are a more fool-proof way of getting all the bacteria and build-up from between teeth and underneath the gumlines. Even for those that floss the traditional way each day, most don't do it properly. There's less "technique" involved with water flossers, which means that you're more likely to keep your gums healthy and happy.
Oral irrigators are especially beneficial for people with the following issues:
Bleeding gums – This is an early sign of gum disease that needs attention right away.
Braces – Food and plaque often get stuck behind and between brackets.
Dry mouth – Saliva is a natural mouth cleaner, so those with dry mouth usually have more buildup and are at higher risk for cavities.
Crooked teeth – If your teeth aren't perfectly straight, it's more likely that food will get stuck in them. Plus, it's harder to floss them well!
Oral irrigation devices should be combined with a regular flossing routine to ensure that your mouth remains as clean and healthy as possible. Especially if you already have signs of periodontal disease, such as bleeding gums, or if you have braces, dry mouth, or crooked teeth, then a water flosser is a smart addition to other elements of a dental hygiene routine.