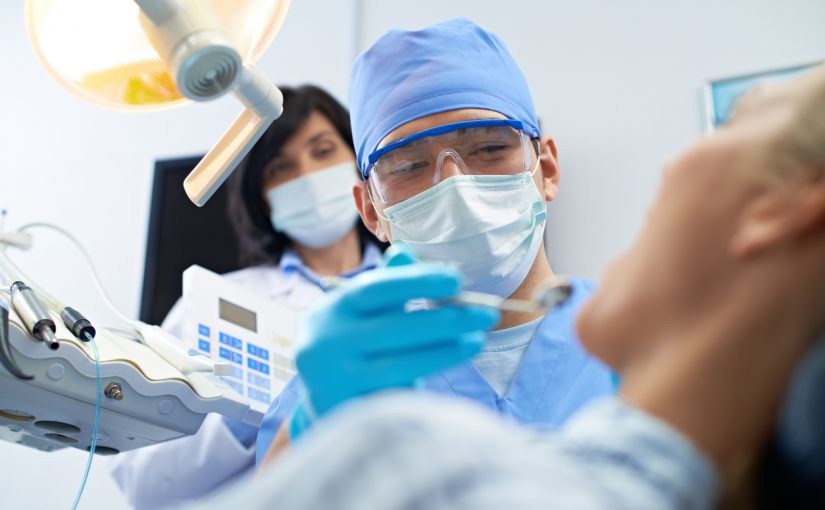 Gum disease is a serious oral health condition that should be treated as quickly as possible. What begins with puffy or bleeding gums can quickly become a much more serious issue that can even affect your overall health.
What Is Gum Disease?
Gum disease, or periodontal disease, is an infection of the gums that is typically caused by a build up of bacteria, plaque and tartar. Plaque, the bacteria that develop on teeth and causes cavities, can also accumulate on a person's gums and is the main cause for the beginning stages of gum disease. Gum disease can also be caused from other factors including:
Family history
Poor oral hygiene habits
Smoking
Hormonal changes
Pregnancy
Illnesses such as cancer, HIV, and diabetes
Certain medications
Gum disease typically progresses subtlety and does not always produce obvious symptoms. Common signs of gum disease include:
Bad breath
Gums that are red, swollen, or tender
Gums that bleed easily or bleed from tooth brushing
Pain while chewing
Receding gums
Sensitive teeth
Loose teeth
Deep pockets between teeth and gums
Stages Of Gum Disease
The mildest stage of gum disease is known as gingivitis and is typically identified from swollen or bleeding gums and bad breath. Gingivitis is the easiest stage to treat and correct, which is why dentists recommend regular cleanings and exams every six months. If it is caught early enough, gingivitis is reversible and can even be corrected at home.
If left untreated or ignored, gingivitis will advance to slight or moderate periodontal disease. When the infection progresses, it will penetrates deep into the gums causing them to pull away from the teeth as bacteria begins to damage or even destroy tissue and bone. The deeper the infection spreads, the more damage there is to gums, the greater risk there is of bacteria entering the blood stream, and there is often 20-50% bone loss. The slight and moderate stages of gum disease cannot be treated at home and will require treatment from a dentist.
The worst stage of gum disease is known as advanced periodontal disease. At this stage, bacteria becomes virulent leading to deep pocket depths between teeth and gums, root exposure, 50-90% bone loss, loose or shifted teeth, increased risk of tooth loss, abscesses in the gums, and infection throughout the immune system. At this stage, the disease can only be treated to make it manageable.
Preventing Gum Disease
The most effective way to prevent gum disease is to practice good oral hygiene habits. Brushing twice a day, flossing daily, and remaining consistent with dental cleanings and exams can go a long way in preventing any oral problem. Incorporating antibacterial mouthwashes can also help to reduce the amount of bacteria in the mouth and consequently reduce the risk of plaque build-up. Other was to help reduce the risk of gum disease include quitting smoking or tobacco, reducing stress, maintaining a healthy diet, and avoiding clenching or grinding of the teeth.
Treating Gum Disease
Although gum disease cannot be treated with good oral hygiene habits alone, it is still extremely important to maintain those habits. The first step in treating gum disease comes from getting a professional dental cleaning every 4-6 months during which plaque and tartar are thoroughly removed. If your dentist notices signs of gum disease during an exam, they will be able to recommend specific habits that will help you prevent the disease from progressing.
If gingivitis is identified, you will receive a thorough cleaning both above and below the gum line to remove as much plaque and tartar as possible. You will need to be even more consistent with brushing and flossing to help stop gingivitis before it can advance.
Slight or moderate periodontal disease may require scaling during which the dentist will cleans out the periodontal pockets or root planning during with the surface of the roots is smoothed out to help gums reattach. Consistent oral hygiene after these treatments will help to stop the disease before it becomes worse.
In order to treat advanced periodontal disease, a procedure known as flap surgery may be necessary. During this procedure, an incision is made in the gums resembling a flap and the gums are then lifted back in order to clean the diseased and affected tissues. The flap is then sealed to help the gums fit better around the teeth. If the patient has lost teeth to the disease, the dentist may recommend a bone graft to help regenerate bone.
The exact treatment used will depend on the patient, their medical history, and the condition of their gums and teeth.
If you suspect gum disease, schedule an appointment at Foutz Family Dentistry in Henderson, Nevada as soon as possible to help get you on the path to healthy gums.
Dr. Barton H. Foutz, DDS
2510 Wigwam Parkway Suite 100 Henderson, NV 89074
(702) 792-5929