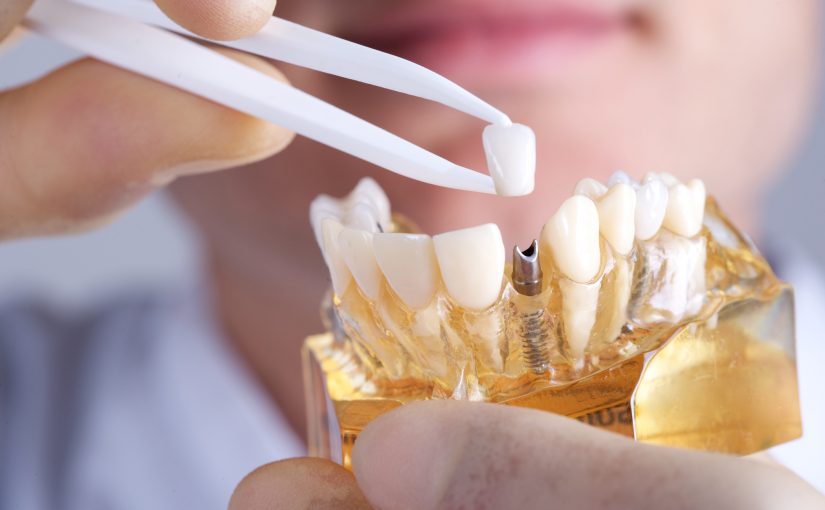 If you have missing teeth, you have likely been looking for ways to resolve the issue. Not having a full set of teeth is not only physically discomforting, but can also be emotionally stressful affecting self-image and esteem. An effective way to solve this problem is to replace your missing teeth high quality dental implants.
Dental implants look and function like natural teeth and provide an advantageous solution to dentures or bridges. An implant is a custom made crown that is attached to a metal anchor through a mounting post. The porous metal anchor is first placed into the jawbone and then the patient must then wait for the bone to grow around it and lock it into place. After the anchor has fully integrated into the jawbone, the mounting post is secured into it and the crown is then attached. Below are five ways in which dental implants can improve your quality of life.
Eat Well
The greatest benefit of dental implants is the ability to eat well without limiting the foods you are able to chew. When teeth are missing, a person is not be able to chew food properly and sometimes is not able to fully enjoy its taste. Instead, they are forced to make do with uncomfortable chewing. This discomfort can be completely avoided using dental implants.
Improve Face Structure
People with missing teeth often have a slight disfigurement in their facial structure, specifically in the jawline, potentially causing the face to look disproportionate. With dental implants, patients find a restored jawline and improved appearance.
Boost Self Confidence
Missing teeth in addition to a disfigured jawline can significantly affect the confidence of many people. Unfortunately, bullying and teasing are often directed at those who look different in any way, wearing away at a person's self esteem and preventing them from living life to their fullest potential. By investing in dental implants, appearance is improved boosting self-confidence, self-image and giving many patients a new lease on life.
Prevent Mouth Diseases
People with missing teeth are more at risk of contracting diseases of the mouth such as periodontal disease. Such diseases can affect the gums, sides of the mouth, stability of the teeth, and so on. All such troubles can be better avoided through dental implants.
Zero Adhesives
Unlike wearing dentures, which require the use of adhesives to hold it in place, dental implants need no such things. Dental implants are tightly attached without the use of any uncomfortable adhesive substance. What's more, caring for implants is as simple as caring for one's natural teeth with normal brushing and flossing.
At Foutz Family Dentistry, we provide the highest quality dental implants that offer a number aesthetic, medical, and emotional benefits. Through innovative techniques and superior materials, Dr. Barton Foutz provides patients with an incredible way to replace missing teeth and provide dental solutions that will last for decades. Call our office today at (702) 792-5929 for more information or to schedule a consultation.
Dr. Barton H. Foutz, DDS
2510 Wigwam Parkway Suite 100 Henderson, NV 89074
(702) 792-5929