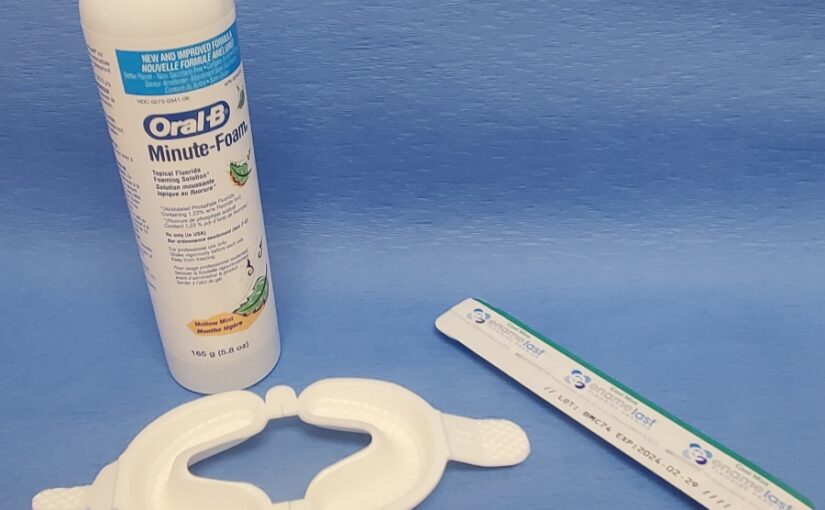 How would you like to cut your risk of cavities in half?
A 2015 study conducted by the University of Sydney Dental School found that preventative techniques such as applying fluoride varnish can reduce the need for fillings in adults by up to 50 percent.
Fluoride is a naturally-occurring mineral used to prevent tooth decay. It helps reverse early damage by rebuilding tooth enamel. Fluoride is so important to good oral health that it is on the World Health Organization's list of essential medicines.
For cavity prevention treatment, fluoride works best when applied directly to the teeth by a professional. But because there are different kinds of fluoride treatments, how do you know which one is the right choice to protect your dental health?
Let's compare fluoride foam and fluoride varnish, two common fluoride treatments.
What Is Fluoride Foam?
Fluoride foam is a solution used during in-office dentist appointments and prescribed for at-home applications. It is an appropriate option for young children who have problems brushing their teeth properly or for adults with sensitive teeth and gums who find regular brushing painful.
A foam-filled tray is placed into the mouth and over the teeth. Over the next few minutes, the foam activates, and tiny bubbles continually expand and collapse over and between teeth, ensuring maximum coverage.
Fluoride foam reduces cavities by around 25% in adolescents and adults, and by approximately 40% in children.
What Is Fluoride Varnish?
Fluoride varnish is a topical fluoride treatment that the dentist applies directly to the teeth during an in-office visit. Thicker than foam, the solution quickly sets and adheres to the teeth.
Varnish is extremely effective at reducing cavities. One study concluded that fluoride varnish cuts the incidence of cavities by between 50% and 70% for all patient groups.
Head-to-Head: Fluoride Foam versus Fluoride Varnish
Besides the significant difference in effectiveness, fluoride varnish has several other advantages over fluoride foam:
Lowered risk of dental fluorosis – discoloration and damage to the teeth
Reduced likelihood of fluoride ingestion, making it a safer procedure for children under the age of 6
The US Preventive Services Task Force recommends that infants and children should receive fluoride varnish treatments as soon as their teeth start coming in.
Because trays are unnecessary, the application of varnish does not trigger the gag reflex.
There is no post-treatment restriction on eating or drinking.
Varnish application is faster than foam treatment. It takes about as long as brushing your teeth.
An Ounce of Prevention Is a Pound of Cure
"Prevention has always been a part of the world of dentistry. What we're seeing is a generational shift."
~ Dr. Richard Valachovic, DMD, MPH, President Emeritus, American Dental Education Association
Fluoride varnish has emerged as a painless and effective way to prevent cavities and reduce the need for drilling and fillings.
If you live in the Las Vegas area, your most trusted resource for premium dental care is Foutz Family Dentistry. Located conveniently in Henderson, Nevada, the Foutz family has been a respected name in family dentistry for four generations.
For more information about fluoride varnish or to book an appointment, contact Foutz Family Dentistry!